Belts, Wipers, & Cooling Systems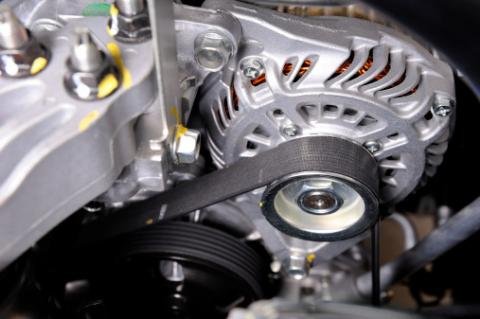 Your vehicle may have a single engine drive belt (called a serpentine), or it may use several belts if it's an older car or truck. These drive belts roll over pulleys which turn and generate rotational energy into each accessory attached to your engine. They typically drive the alternator, the water pump, air conditioning, power steering, and even the power brakes on some larger vehicles.
Examine your belts at every service opportunity
If you have a serpentine belt, the loss of this belt means the car will either overheat or lose electrical power quickly, and you may be stranded unexpectedly. These belts are made of rubber compounds and can stretch, crack, or be damaged by contact with chemicals. It is imperative to examine your belts at every service opportunity, to be certain that every engine system using that belt can continue to operate effectively.
Cooling Systems
Your cooling system is extremely important in the operation of your vehicle. The belts in your car drive your water pump, circulating coolant throughout your engine. Always maintain the proper level of coolant in your automobile's system, will prevent your car from overheating and ruining your engine.
Always have your coolant levels checked when you have your oil changed.Your repair shop should inspect your engine belts for cracks or missing sections. Your car's radiator cap should be free of corrosion and leaks in order to protect your engine from getting to hot.
Timing Belt
For those vehicles with timing belts, most manufacturers recommend service every 60,000, 90,000, 105,000 or 120,000 miles. You can't see your timing belt when you open your hood, but it's important. It synchronizes the rotation of the camshaft and crankshaft in your car's engine. If your car has an "interference engine", a broken belt could cause serious internal damage and expensive repairs.
Windshield Wipers
Your wipers are equally important as they can prevent a wreck just by clearing debris from your view. Replace your wipers every wet season for optimal results.
Using only the highest quality replacement parts, we take pride in our work because we know our reputation is critical to our success. Please let us know how we're doing! Feel free to call or stop by at any time and let us know how you feel about the services we've done for you. Even though you may first find us as a new customer, we hope you'll drive away satisfied and happy to refer us to your friends!
At Automotive Diagnostic Center, your complete automotive care center in Wichita, KS we install only quality replacement parts. Give us a call and let us help keep you safely and economically on the road. We serve Wichita and the surrounding areas.